Neuropsychology and ophthalmology
Neurology and Fabry disease
The information on this page is tailored for neurologists, ophthalmologists and mental health professionals. For more detailed information on the cause, inheritance, diagnosis and management of Fabry disease, please refer to our 'About Fabry disease' page.
Neurological pathophysiology
Pathology in Fabry disease arises from accumulation of globotriaosylceramide (GL-3) which leads to cellular dysfunction. Specifically, a cascade of events is triggered which includes oxidative stress, compromised metabolism and cell death resulting in vascular dysfunction and tissue fibrosis.1,2 Cerebrovascular involvement can be attributed to vasculopathy characterised by abnormalities in blood vessel walls, altered blood components and altered blood flow, stemming from GL-3 accumulation.3 Mechanisms of early peripheral neuropathy are less clear, but it is thought that GL-3 deposition leads to axonal sodium channel dysfunction causing frequent nociceptor discharge, degradation of peripheral nerves and vasa nervorum ischaemia.4
Early peripheral neuropathy and pain
Early neuronal damage involves small nerve fibres of the peripheral and autonomic nervous systems, with onset of related symptoms generally occurring younger in males than in females.1
Neuropathic pain is experienced by 60–80% of classic-onset patients and is one of the earliest paediatric Fabry disease symptoms. There are two types of neuropathic pain:
Fabry crises – characterised by intense burning pain in the extremities, radiating inwards to the limbs.
Chronic pain – characterised by burning and tingling paraesthesias.
This kind of pain can lead to greatly diminished quality of life and is heavily associated with onset of depression and other psychiatric conditions.1,5 In fact, pain and depression in Fabry disease actually represent a neurobiological matrix (this is explained in more detail in the 'Psychology and Fabry disease' section of the site).5
Other small nerve fibre neuropathy
Gastrointestinal (GI) involvement in Fabry disease is an often under-appreciated and early‑occurring manifestation. Patients usually complain of abdominal pain, diarrhoea, nausea and vomiting. It is thought these symptoms arise from damage to small nerve fibres and deposition of GL-3 in the autonomic ganglia of the bowel and mesenteric blood vessels.1
Anhidrosis or hypohidrosis is also a common feature early in the disease course. It often leads to heat and/or exercise intolerance in children.1 A study has shown that hypohidrosis can occur in up to 93% of males and 25% of females with Fabry disease.6
Cerebrovascular manifestations
The early neuropathic symptoms of Fabry disease are often followed by cerebrovascular manifestations and autonomic dysfunction in adulthood.1
Some of the most debilitating and potentially lethal neurological features of Fabry disease are caused by cerebrovascular lesions, which result from GL-3 accumulation in small blood vessels of the brain, as discussed above.1 Signs and symptoms range from mild to severe and include headache, vertigo/dizziness, TIAs, ischaemic stroke and, more rarely, vascular dementia.1 Importantly, strokes occur earlier in patients with Fabry disease compared to the general population. In a study using data from the Fabry Registry, median age at first stroke was calculated to be 39 years in males and 46 years in females, and in some cases represented the first manifestation of the disease.1
This image demonstrates an MRI of a 53-year-old male with Fabry disease showing cerebral white matter hyperintensities.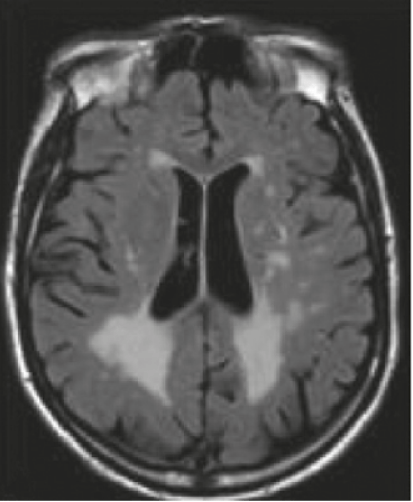 Neurological signs and symptoms
The accordion below contains a list of neurological-based Fabry disease symptoms. Click on the headings to learn more about neurological-based Fabry disease symptoms.
Neuropathic pain
Hypohidrosis
Acroparaesthesia
Sensitivity to heat and cold
Gl disturbances
TIA
Stroke
Cerebral venous thrombosis
Asymptomatic brain lesions and/or T1/T2 flares on imaging.
Cognitive decline and dementia
Germain DP. Fabry disease. Orphanet J Rare Dis. 2010;5:30.
Rombach SM, Twickler TB, Aerts JMFG, et al. Vasculopathy in patients with Fabry disease: current controversies and research directions. Molec Genet Metab. 2010;99:99–108.
Kolodny E, Fellgiebel A, Hilz MJ, et al. Cerebrovascular involvement in Fabry disease. Stroke. 2015;46:302–313.
Brooks JBB & Fragoso YD. Neurological manifestations in Fabry disease. Neuroimmunol Neuroinflammation. 2016;3:228–231.
Chertcoff A, Cejas LL, Marchesoni C, et al. Depression: the hidden problem in Fabry disease. J Inborn Errors. 2021;9:1–7.
Lidove O, Jaussaud R & Aractingi S. Dermatological and soft-tissue manifestations of Fabry disease: characteristics and response to enzyme replacement therapy. In: Mehta A, Beck M, Sunder-Plassmann G, editors. Fabry Disease: Perspectives from 5 Years of FOS. Oxford: Oxford PharmaGenesis; 2006. Chapter 24.
Ortiz A, Germain DP, Desnick RJ, et al. Fabry disease revisited: management and treatment recommendations for adult patients. Mol Genet Metab. 2018;123:416–427.