Neuropsychology and ophthalmology
Ophthalmology and Fabry disease
The information on this page is tailored for neurologists, ophthalmologists and mental health professionals. For more detailed information on the cause, inheritance, diagnosis and management of Fabry disease, please refer to our 'About Fabry disease' page.
Ophthalmological abnormalities in Fabry disease are the result of GL-3 accumulation in ocular structures.1 Click on the headings to learn about the most specific ocular manifestations of Fabry disease.
Ophthalmological examination should be carried out in every case of suspected Fabry disease. Some of the eye abnormalities are present in most individuals with Fabry disease and can be helpful in confirming a diagnosis. For example, conjunctival vessel abnormalities and corneal verticillata are both relatively common. In fact, corneal verticillata are highly sensitive for diagnosis of Fabry disease, as well as being highly specific.1
The most characteristic manifestations are increased vessel tortuosity, venous vascular aneurysmal dilation and 'sludging' of blood in the small blood vessels, most commonly seen in the inferior bulbar conjunctiva.
Abnormal storage of GL-3 induces degenerative changes in vessel walls that are responsible for weak mechanical resistance to blood pressure.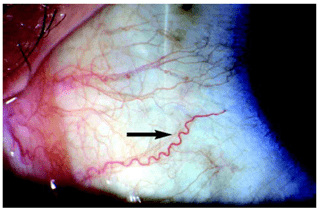 Corneal verticillata are common, consisting of bilateral whorl-like opacities in the superficial corneal layers. In the early stages, the opacities may form fine horizontal lines, but later develop into curving lines, radiating from a point below the centre of the cornea.
Corneal verticillata have been described in almost all patients with Fabry disease and are therefore considered the most reliable marker of disease.
Other causes of corneal verticillata include:

Use of medications such as amiodarone, chloroquine and hydroxychloroquine
Multiple myeloma
Neurotrophic keratitis
Lisch corneal dystrophy
Epidemic keratoconjunctivitis
Iron deposition
Stromal deposition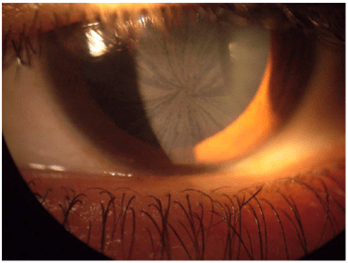 Two specific types of lens opacity have been reported in Fabry disease patients: anterior capsular or subcapsular cataract, and a radial posterior subcapsular cataract. Posterior subcapsular cataracts are rare but are very specific for the disease (and are hence termed 'Fabry cataracts').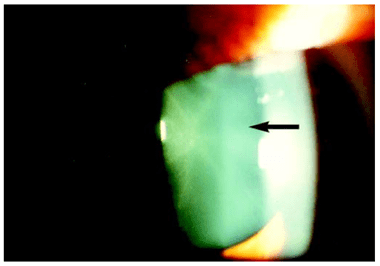 Mainly represented by increased tortuosity of the retinal vessels associated with venous dilation and arteriolar narrowing.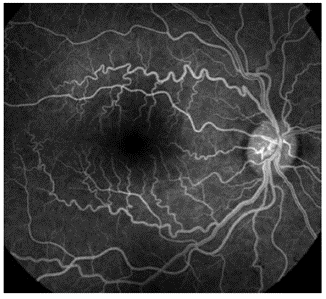 Sodi A, Ioannidis A & Pitz S. Ophthalmological manifestations of Fabry disease. In: Fabry disease: perspectives from 5 years of FOS. Oxford: Oxford PharmaGenesis; 2006.
American Academy of Ophthalmology. EyeWiki: Cornea Verticillata. March 2021. Available at:
Germain DP. Fabry disease. Orphanet J Rare Dis. 2010;5:30.